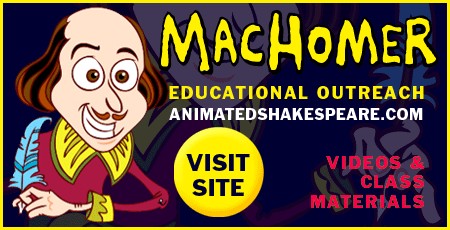 EDUCATIONAL MODULES!


Educational outreach modules explore Shakespeare's writing and why it continues to be studied and performed 400 years after his death.

These state-of-the-art online outreach materials allow teachers to get past the initial aversion to Shakespearian language by comparing it to music, poetry, and by setting activities for speaking it aloud. They give a glimpse into the context and times in which Shakespeare lived, wrote and performed. Topics include Shakespeare's own bio, what life was like in England, and going to the Elizabethan theatre.

Educational modules also introduce us to the play, Shakespeare's Macbeth; to the similarities and differences with Macbeth the real historical king; and to the traditional theatrical "curse" of Macbeth.

Visit animatedshakespeare.com

IN-SCHOOL WORKSHOPS


For the last 10 years, Rick Miller has been taking his one-man MacHomer (The Simpsons do Macbeth) into schools and colleges, offering students a low-tech version of the show that has now been seen by 500 000 people in 150 cities! In addition to the performance, Rick gives an interactive workshop that delves more deeply into Shakespeare's words, and explores the challenges of multi-character solo performance.
"I have heard nothing but great things from all of the students who were there. While I feel that your performance stands alone very well, I have found myself using your characters to help students compare and contrast the characters in the play. They have much faster recall of the story than I remember previous classes having. Another wonderful situation, which I believe is directly attributable to you, is the large number of my students who have signed up to attend Stratford to see Hamlet. I believe that the Grade 11 students of this year have understood the benefit of seeing Shakespeare performed as an aide to their understanding. I did have fun and I was particularly thrilled at how enthused my students were."
- Kathleen Bourne, Agincourt Collegiate Institute
PUBLISHED SCRIPTS
If any teacher or student would like to use excerpts from Machomer for educational purposes, Rick Miller would be happy to send hard copies of the full published script. For more, please contact us.